Zimbabwe to Increase Wildlife Exports to China
The move will reduce the chances of elephants dying because of drought,as quoted in the state-owned Herald newspaper. Critics have condemned the exports as stealing from the future generation's natural resources.
READ MORE...
ALL THE NEWS
February 5, 2016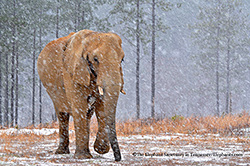 Snow Days at The Elephant Sanctuary
READ MORE...