April Events at the Welcome Center
2012-04-03


Note: We have changed the presentation time to 2:30 PM to facilitate Volunteer Day participation.
April Welcome Center Events – Saturday, April 21 at 2:30 PM
The Elephant Sanctuary is pleased to announce the Welcome Center in downtown Hohenwald will present a multi-media presentation and informal discussion during the month of April entitled "Girl Talk" on Saturday, April 21 at a new time - 2:30 PM. Visitors are invited to attend.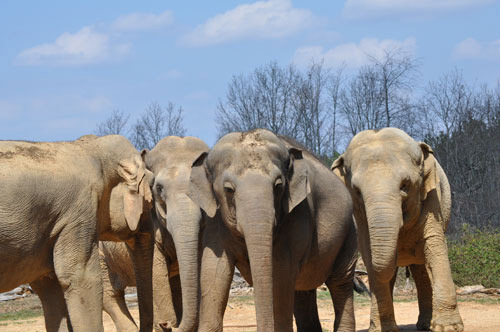 A Full Elephant Orchestration With Song and Dance
featuring Minnie, Debbie, Ronnie, Tarra, and more!
"Girl Talk" explores the social bonding and relationships among our Girls. Elephants are social animals whose whole lives in the wild are spent with their matriarchal families. Come listen to the "conversations" among the big Girls in their habitats and observe their excited reunions after having been away from each other for short periods of the day. Enjoy hearing the ele-orchestration of "chirps and rumbles," along with "tenor sax, coronet, and tuba-like trumpets" of Minnie, Debbie, and Ronnie, or the unique bark of Tarra.

The staff and volunteers at the Welcome Center invite the public to stop by to learn more about our resident elephants through videos and slide presentations given by Sanctuary Staff. A photo exhibit featuring the Sanctuary residents is currently on display. While at the Welcome Center, visitors may also access our network of 13 cameras (Elecam System) which are strategically placed throughout all three habitats, and enjoy live streaming video of the Girls in their natural environment without intruding on their Sanctuary.

The Welcome Center will provide opportunities for the public to meet some of The Sanctuary's staff at the following informal Saturday program:
Saturday, April 21, at a new time – 2:30 p.m. by Caregiver-Education Carol Durham.
The Elephant Sanctuary Welcome Center (27 East Main Street, Hohenwald, TN 38462), is open to the public on Thursdays and Fridays from 11 a.m. to 4 p.m.; and every third Saturday of the month from 11 a.m. to 4 p.m.; other times are available by appointment. For more information, please call Lorenda Rochelle at 931-796-6500 ext. 105.