2012 Combined Federal Campaign
2012-09-17


The Sanctuary would like to take this opportunity to again thank all our members who support us through the Combined Federal Campaign (CFC). Your automatic payroll deductions have gone a long way in helping us fulfill our mission and in contributing to the daily care of each and every one of our Girls. If you are one of our valued CFC donors, we hope you will choose to renew your pledge during the fall giving campaigns that are currently underway. (Please note our code is #10470.)

If you are a federal government employee and would like to find out more about donating to The Sanctuary, visit www.cfcnca.org, or contact your workplace benefits administrator for more information.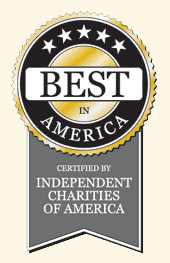 The Independent Charities Seal of Excellence is awarded to the members of Independent Charities of America and Local Independent Charities of America that have, upon rigorous independent review, been able to certify, document, and demonstrate on an annual basis that they meet the highest standards of public accountability, program effectiveness, and cost effectiveness. These standards include those required by the US Government for inclusion in the Combined Federal Campaign, probably the most exclusive fund drive in the world. Of the 1,000,000 charities operating in the United States today, it is estimated that fewer than 50,000, or 5 percent, meet or exceed these standards, and, of those, fewer than 2,000 have been awarded this Seal.

The Elephant Sanctuary in Tennessee has been recognized by Independent Charities of America (ICA) as "Best in America".