The Big Pumpkin Drop
2012-11-21


FOR IMMEDIATE RELEASE
MEDIA CONTACT:
Jill@elephants.com
Jill Moore, 615-397-6507
Angela Spivey, 931-306-9774
Angela@elephants.com


HOHENWALD, Tenn. – November 21, 2012 – In the true spirit of holiday giving, The Elephant Sanctuary in Tennessee, and its 14 resident elephants, received a donated trailer load of pumpkins from The Fontanel Mansion in Whites Creek, Tennessee.

The Fontanel Mansion is a 27,000 square foot log home formerly owned by Country Music Hall of Fame member Barbara Mandrell, and is Nashville's only country music mansion tour, giving visitors a sneak peek into the lives of country music greats. The site includes the mansion, an amphitheatre, a restaurant and wine bar, and two miles of walking trails. Fontanel recently hosted a holiday pumpkin patch, with proceeds going to the Monroe Harding Children's Home. At the conclusion of the pumpkin sales, Jaime Dudney, Fontanel's Director of Hospitality and Entertainment, was tasked with finding a home for the remaining pumpkins, and was inspired to donate them to The Elephant Sanctuary after watching a video of elephants enjoying the tasty pumpkin treats.

Ms. Dudney, Gary Sheibler and members of The Elephant Sanctuary staff worked together to unload the trailer full of pumpkins and gourds. The pumpkins will be distributed amongst the 14 resident elephants, all retired from zoos and circuses to sanctuary, as a special addition to their holiday diet this week. According to Jill Moore, Director of Development & Communications for The Elephant Sanctuary "This is truly a special treat for our Girls – some of the elephants love the taste of pumpkins – especially our African Girls, Tange and Flora, while some of the Asian Girls just enjoy stomping on them for fun. Either way, it's a great enrichment for all the elephants. Everyone at The Sanctuary is thankful to Jaime and The Fontanel Mansion for this generous donation."
Visit our Youtube channel to watch a video of "The Great Pumpkin Drop".

The Elephant Sanctuary in Tennessee is a 501 (c)(3) non-profit corporation founded in 1995. For the past 17 years it has provided sanctuary to 24 elephants and garnered support from more than 100,000 members. The Sanctuary operates on 2,700 acres in Hohenwald, Tenn., about 85 miles southwest of Nashville, and has a staff of 30 with 14 current elephant residents. The Elephant Sanctuary operates as a true sanctuary and therefore is not open to the public, but does provide an Elecam on their website where visitors can watch live images of the elephants enjoying their natural habitat. For more information, please visit www.elephants.com or call 931-796-6500.

If you would like to know more about The Fontanel Mansion, please visit www.fontanelmansion.com or call 615-724-1600.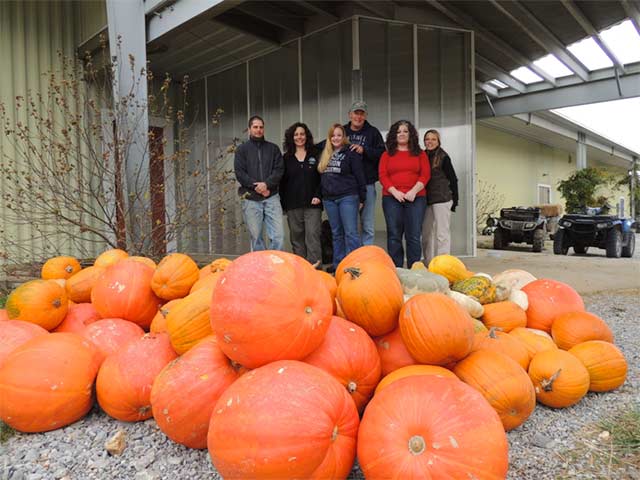 Jaime Dudney, Gary Sheibler, and Sanctuary staff after unloading the donated pumpkins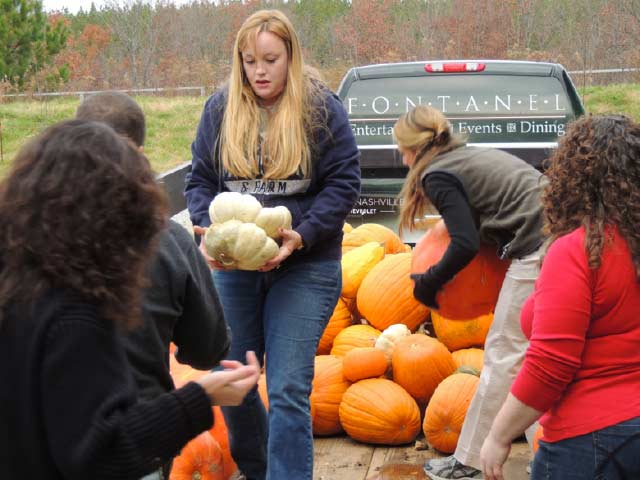 The team unloading the pumpkins from the Fontanel trailer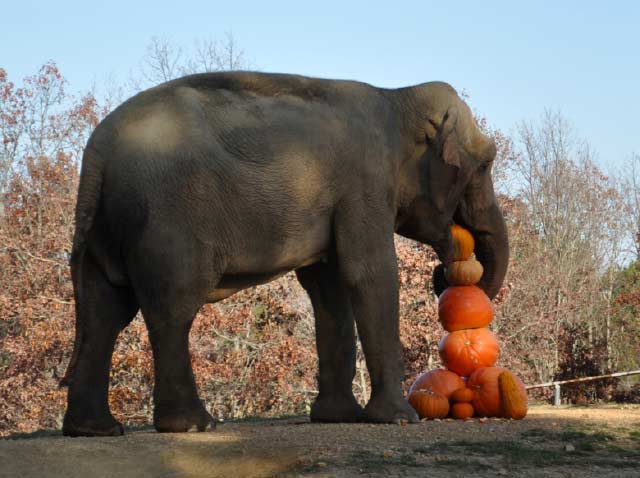 Dulary, one of The Sanctuary's Asian elephants, enjoying her pumpkin pyramid!