Tennessee, Florida Elephant Retirement Homes Differ in Approach
2013-01-26


The Tennessean
January 26, 2013
by Jim Myers
In researching this story, The Tennessean was granted limited access to the Elephant Sanctuary in Tennessee near Hohenwald and the Ringling Bros. Center for Elephant Conservation near Orlando, Fla. Neither facility is open to the public.

Both facilities were founded in 1995 and share the role of providing respite to retired elephants, but their missions and the philosophies behind how elephants should be handled differ.

The Elephant Sanctuary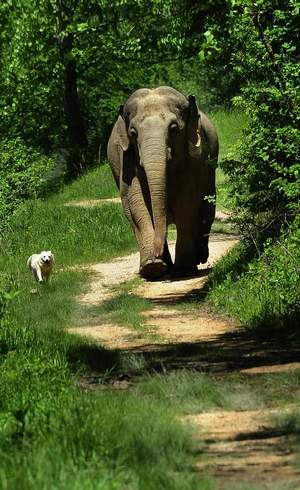 Asian elephant Tarra and Bella the dog were best buds at The Elephant Sanctuary near Hohenwald, Tenn. There, elephants are not chained and have a fairly free run of hundreds of acres.
/John Partipilo / The Tennessean

The Elephant Sanctuary in Tennessee occupies 2,700 acres of wooded rolling hills. Fourteen elephants currently call the sanctuary home, and nine have died there.

The elephants are not handled using physical correction; instead they rely on visual and verbal cues and positive reinforcement, a technique called protective contact that is considered safer for the animal and the caregivers.

Though not a direct correlation, the full transition to protective contact occurred after caregiver Joanna Burke was killed in 2006 by Winkie, an elephant with a reputation for anger issues.

Jill Moore, director of communications and development at the Sanctuary, says the staff receives animals from circuses and zoos from all over the country and is willing to work with all elephant holding facilities to improve the lot of captive elephants.

Elephants are confined to the barns only during inclement weather, are not chained, and otherwise have a fairly free run of hundreds of acres that, at least in summertime, quite closely resemble some of their hardwood forest habitats in Thailand or India.

On the day of our visit, the elephants were indeed confined to the barns, and we were not allowed inside. The Sanctuary remains vigorously committed to limiting contact with the animals, and only caregivers and veterinarians are allowed near them. The elephants are left to themselves mostly, to live out their days after decades of confinement and performing.

Besides its role in elephant retirement, the Sanctuary maintains a strong emphasis through education outreach, especially with the use of remote "ele-cams," which show the animals in a natural setting, believing that, not direct contact, is the key to conservation.

Center for Elephant Conservation


Five-month-old elephant Piper walks around her pen with her mother and aunt at the Ringling Bros. Center for Elephant Conservation near Orlando, Fla.
/Samuel M. Simpkins / The Tennessean

About a half an hour from the Orlando airport, past the exits for Disney World and other myriad resorts, a small highway leads to an unmarked turnoff down a road of crushed shells. It's the typical flat expanse of central Florida, with pastures of patchy grass broken by trees and a base of exposed sandy soil. This tract is owned and operated by Ringling Bros. as its Center for Elephant Conservation (the Center).

Circumscribed by orange groves and swampland, the Center is a 200-acre complex of large enclosures, shade structures, smaller paddocks, barns and outbuildings. Ringling Bros. holds up the Center as a model for the breeding of endangered Asian elephants and a humane retirement home for animals no longer able to perform on one of their traveling units.

We were not granted access to the main barns for health reasons, primarily because a month-old male calf named Nate and his mother were still acclimating to their new lives.

We did see numerous young females, some pregnant, as well as a young female calf named Piper, in a large sandy enclosure with her mother and aunt. Weaving in and out among their large legs, the 5-month-old was active, playful and curious.

Manager Gary Jacobson, who helps train the young elephants, called her over, and she approached with gregarious speed, followed by her aunt, who made sure the calf's body and wriggling trunk did not come too close to the electric wires that hummed and crackled along the enclosure.

Males provide a more complicated set of problems. One 4-year-old, ironically named Barack after President Obama (there are no donkeys at the Center), was just returned from the road for exhibiting increased aggression and difficulty in handling.

While the breeding program at the Center claims a high level of success (25 calves born to date), especially when compared with birth rates in zoos, male elephants are somewhat of an unfortunate byproduct, as they most often become too aggressive to work at the circus and consequently spend half their time confined by chains in large steel cages, or small pens, which we were not allowed to photograph.

Still, given the decline of elephant populations in this country (even Ringling Bros.' herd has dropped from the 60s to 41), coupled with the loss of habitat in their native range, the circus sees breeding as a viable approach to saving the species. They have the wristbands "Endangered Species? Not if we can help it" to carry their message.

Unlike at the Sanctuary, though, direct human contact is the norm (except for the males, where protective contact is required). The bullhook is widely used for training and correction, as are chains for restraint.

"From the day they're born, we're integrated with them. They have to learn that they can't just knock us down," said Trudy Williams, the Center's manager of animal stewardship, who has worked with elephants for more than 20 years. It's a reminder of the strength and power even a 300-pound baby can have as it gains 2 pounds a day, topping out in the 8,000- to 10,000-pound range.

One other interesting comparison of note: The Sanctuary estimates the annual cost of elephant maintenance to be $135,000; Ringling Bros. estimates it to be $65,000.
###
Debate Rages On Over Circus Elephants
Ringling Bros. Testimony About Bullhooks