Oregon Zoo Elephant's Tuberculosis Diagnosis a Challenge for Him and His Caretakers
2013-06-07


By Katy Muldoon, the Oregonian
June 6, 2013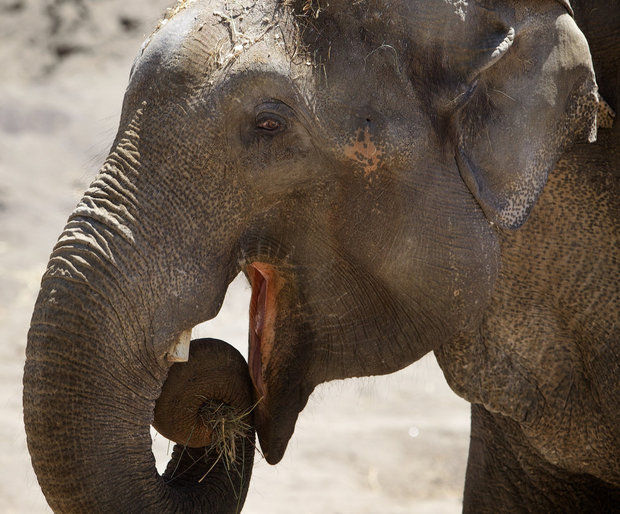 Rama, an elephant at the Oregon Zoo, is being treated for TB
Mitch Finnegan's first thought, after receiving lab results by e-mail last Friday morning, was that he and his co-workers faced a steep challenge: treating Rama, a 30-year-old Oregon Zoo elephant, for tuberculosis. As the day wore on, though, the zoo veterinarian says his mind swirled with the potentially far-reaching health ramifications not only for Rama but also for the entire herd, for zoo personnel who work with the elephants, for their families and perhaps beyond.

He knew that people can pass TB to elephants and elephants can pass it to people. Left untreated, the chronic disease, which attacks the respiratory system, can be fatal to people, elephants and some other species.

"This," Finnegan recalls thinking, "is gonna be a big deal."

He noticed Chris Pfefferkorn, deputy zoo director, walking by the veterinary medical center and shared the news. Finnegan next called the state public health veterinarian, the U.S. Department of Agriculture, which oversees animal welfare in zoos, and the Multnomah County health officer charged locally with keeping TB under control. Word spread to zookeepers and later that day, some already were being tested for TB.

The zoo that historically stakes its reputation on elephants -- the institution where officials on Monday plan to break ground on a 6.25-acre, $53 million, bond-funded elephant exhibit -- had never, to Finnegan's knowledge, had a case of TB in its animals.

Even though visitors, who number 1.6 million a year, were likely never at risk because close contact is required for TB to be contagious, the zoo had a crisis.

The first reported elephant death by tuberculosis was at the London Zoo in 1875. But no one was too concerned about the disease in pachyderms, according to Susan Mikota, until 1996, when two elephants from an Illinois circus died from TB.

Mikota, Elephant Care International's director of veterinary programs and research, tracks the disease's history in elephants. She worked in '96 with the American Association of Zoo Veterinarians and the USDA to figure out what to do with the remaining elephants in the infected herd.

"After that," she says, "it became very high-profile. There was a sudden awareness."

By the next year, five new culture-positive cases popped up at four separate operations housing elephants. Everyone in the business knew they had trouble.

It didn't let up.

A survey of 480 Asian and African elephants held in USDA-regulated facilities between 1994 and 2011 found 51 with TB, 45 of them the Asian species the Oregon Zoo holds.

One case was the bovine variety of the disease. The rest were the human variety. It's believed people first passed Mycobacterium tuberculosis to elephants.

No one knows how or when Rama contracted it; TB can rest quietly for years, or forever, without transforming into active infection.

When those survey results were published two years ago, almost 65 percent of the infected elephants had died. By then, TB in humans -- once the most-feared and fatal disease -- had been studied for more than a century. Treatment, especially in the West, was state-of-the-art.

Worldwide today, 30 percent to 40 percent of people are believed to be infected with latent TB; only 5 percent of Americans are. In Oregon, which reported 61 cases last year, public-health officials monitor each patient to make sure they take all medications needed to cure it.

The science on TB in elephants, Mikota says, is less than 20 years old. Much remains unknown.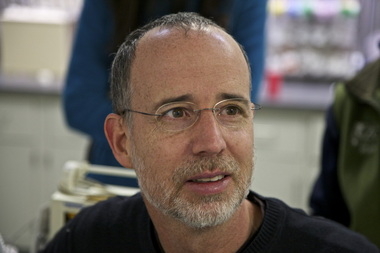 Mitch Finnegan, the Oregon Zoo's chief veterinarian, got Rama's diagnosis on May 31, immediately notifying public health authorities.
Everyone who works with animals at the Oregon Zoo is tested annually for TB "to protect them and to protect the animals," Finnegan says.
Zoonotic diseases, those that can spread from animals to people, "are always a concern here," he says. "The keepers know about them. We talk about them."

Other than a chronically lame front leg, Rama shows no sign of illness.

Like all the zoo's elephants, primates and such hoofstock as antelopes, he's tested annually for TB. Fifteen months ago, he was negative.

He was tested again in March using a procedure known as a "trunk wash." Finnegan sent three samples from Rama to the National Veterinary Services Laboratories.

As he learned last Friday, two samples came up negative for TB. The third was positive.

Saturday morning the zoo issued a news release explaining the diagnosis and protocols to mitigate risk to staff, volunteers and the seven other elephants in the herd.

Keepers would wear masks. No one but them would be allowed behind the scenes in the barn or elephant yards. Cleaning was adjusted so hard surfaces such as walls and floors where Rama had been were disinfected immediately after he was moved.

Rama was segregated. He can see and hear the other elephants but can't get near them with his trunk.

The public can see him outside but, according to health authorities, he poses no threat. To contract the infection, you must be exposed to the bacteria while it's in airborne droplets; visitor areas are too far removed for that to be an issue. Once it hits the ground, it's no longer a threat.

By the numbers
A U.S. Department of Agriculture tuberculosis report surveying 480 U.S. elephants the agency monitored between 1994 and 2011 found:
51 elephants were confirmed with TB, or 10.6 percent of the monitored population
Of those, 33 — 64.7 percent — died; TB and other diseases were found during necropsies, or animal autopsies.
Among females, 72.1 percent died; among males, 25 percent died.
A median of three new cases were diagnosed each year.
During the study period, new TB cases were being detected in U.S. elephants at 161 times the rate they were being detected in the human U.S. population.

TB in people:

9,951 new TB cases were reported in the United States in 2012, the 20th consecutive year of declining rates, according to the U.S. Centers for Disease Control and Prevention.
61 cases were verified in Oregon last year, a rate of 1.6 cases per 100,000 residents and a decrease from 2011, when 74 TB cases were reported.
Saturday morning also brought a visit from Dr. Justin Denny, the Multnomah County health officer, who oversees TB in the area. He's dealt with plenty of cases but never in an elephant.
"We were quickly in motion," he says, "thinking of this much like we do in human cases: How did this happen? How contagious is it?"

In case anyone needed to be isolated to stop disease spread, Denny asked staffers the same questions health workers have when a person contracts TB: Were any coughing? Was their appetite flagging or had they dropped weight unintentionally? Were they fatigued? Did they have night sweats or chills?

No one had symptoms.

"We knew," he says, "the emergency was gone."

Denny and colleagues spent about three hours with zoo staffers explaining TB, describing how the bacteria is all around us all the time, and discussing how and when it can sicken people.

"Folks felt better when we talked to them about treatability," he says. "If detected early, it can have no effect on your health status."

Bob Lee, the curator who oversees the elephant staff, says, "I think everybody just wants to make sure that ... the elephants are taken care of and their own needs are taken care of. You have professionals doing their job like they always have, and they're concerned about themselves and their families."

In the following days, health workers continued TB testing as they would in a human case, checking those closest to Rama first, then expanding to increasingly large circles. Denny praises the zoo for quickly informing authorities and collaborating closely.

"We're not leaving anything unturned," he says.

Veterinarians treat tubercular elephants with the same potent drugs people take to beat back the disease. Like people, each animal responds differently.

Some, Mikota says, "breeze through without side effects ... others don't."

All the drugs have side effects, Finnegan says. Among the nastier ones are liver, kidney and gastrointestinal problems, plus loss of appetite. A 2007 survey of 17 elephants treated for TB found that 16 suffered serious side effects.

To determine which drug combination might work best for Rama, Finnegan spent the week consulting with colleagues at zoos that have successfully treated their elephants. He also weighed cost. Rama's treatment, which will last at least a year, could run into the tens of thousands of dollars.

Doses correspond to an elephant's weight, and at 9,000 pounds, Rama will need a lot. Lee and keepers are plotting how they'll get thousands of pills and powders into the elephant.

He's trained to swallow pills, Lee says, but doubtless will tire of the routine and the notoriously bad taste of antibiotics. Keepers might hide pills in fruit or administer them as suppositories. Or they might employ a trick cooked up by Murray Fowler, a renowned zoo veterinarian and professor who has added the drugs to melted milk chocolate, frozen it, then fed it to TB-positive elephants in tasty tidbits.

Finnegan and keepers also will decide whether to prophylactically treat Chendra, the herd member who has spent most time with Rama.

If all goes well, Rama will never show signs of sickness.

But neither will anyone be assured he's TB-free. Because you can't do a chest X-ray on an elephant, there's no way to know if they're cured until after they die and a necropsy, or animal autopsy, is performed. He'll be tested all his life.

Fowler, the professor emeritus from the U.C. Davis School of Veterinary Medicine, has often collaborated with Finnegan on elephant matters. The Oregon Zoo vet, Fowler says, has a long road ahead but "there isn't a better veterinarian in the country for dealing with elephants than Mitch.

"All we can do is wish him well."

-- Katy Muldoon