It has been a long week at the Asian barn, but all of that seems like a distant memory now when we watch Dulary eat—and not just selectively pick—everything and anything you offer her. After our last update in the Ele-Diary, Dulary continued to improve slightly for several days, although there were still some little dips in her progress, but now those have been resolved. Slowly but surely, Dulary's vocal personality returned, her appetite strengthened, and her appreciation for drinking from the hose re-emerged. As her water consumption returned to normal, along with a small but stable appetite, she was weaned off her IV fluids.

The amount that she ate began to increase quite rapidly, but she was still selective about what she wanted. Her usual grain diet of grain mixed with molasses and vitamin supplements was unacceptable, but plain grain was good; corn and broccoli were eaten, but a carrot and onion were always left behind. Oranges were her favorite—sometimes peeled and sometimes not—they were always eaten first.

The day the decision was made to stop her fluid drip, Dulary assisted by choosing to remove the catheter from her ear on her own! Her water intake was monitored closely, her stools returned to normal, and her appetite continued to thrive. All the while, the rest of the Ladies were absolute peaches. During the hours when their caregivers would be in the barn, most of the attention was being paid to Dulary. Sissy would wait patiently for the hose while Dulary's fluids were being finished up. They were never pushy or demanding, as if they understood one of them was not well and needed attention. Once Dulary's condition improved and allowed for more caregiver time, all the Girls were lavished with extra attention and special holiday treats.

Things are almost completely back to normal now. Dulary and Misty are separated when they eat, allowing Dulary to receive extra produce and ensuring she actually gets to eat it. Dulary is still on one of her medications that encourages her system to keep moving, since she is still not defecating normally on her own. Her intestines have gone through a lot over the past two weeks, and sometimes it takes a while to return back to normal. She is also receiving probiotics to help restore her intestines and something to protect her stomach from any side effects.

The only outward change in Dulary since she became sick is the way she eats hay. When her appetite was off, she reduced her bites of hay to tiny little mouthfuls, pinching them daintily in her trunk but now, at last, the bite sizes have gotten bigger. The staff and vets will continue to monitor Dulary's progress closely, but right now all signs point to a total recovery on her part. On behalf of Dulary, thank you for all the well wishes, support, and extra goodies that were sent to try to entice Dulary into eating. Grapes are a favorite right now, so Shirley deserves a thanks as well for sharing!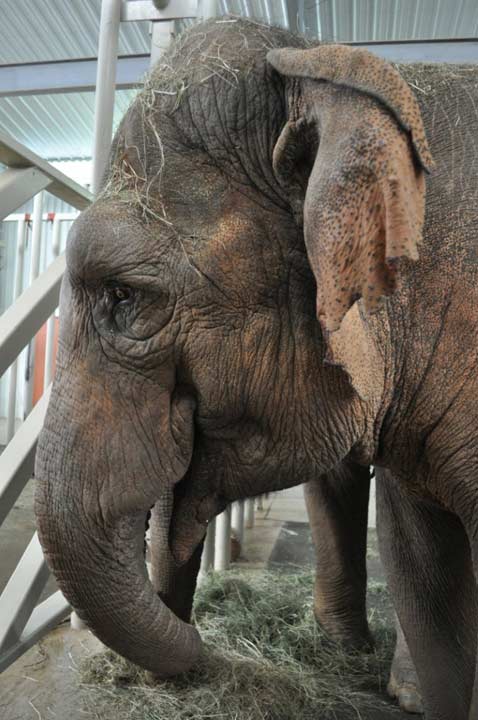 The warm-up in the weather has been welcomed, and the Girls at Q-Barn have been taking advantage of it. The other day, we were even able to leave the barn open for Minnie all night long—something she greatly appreciates. Debbie and Ronnie have spent late mornings/early afternoons napping in sunbeams like giant cats, while Minnie takes on any trees that she feels need to be knocked down. The Girls are even still grazing a bit, searching diligently for the portions of grass that are still succulent and green. Of course, caregivers are always ready with lots of hay, too.

We made it through the longest night of the year and winter is finally here. With limited hours of daylight and warmth from the sun, Tange and Flora have been spending quite a bit of time in the barn. As much as they love coming inside, Tange and Flora are usually thankful for the chance to go out and explore their habitat each morning. Most days they will each go their separate ways at first, finding hay left for them in various parts of the habitat. After about an hour, Tange will go find Flora and graze closer to her. When the days are not too cold, they take off on a valley adventure together and might stay there browsing for a good part of the day and then pop up on the plateau. But lately, on the colder days when the sun is out, they prefer to soak up the rays that reflect off the barn.

Recently, Flora has been heading down to the North Woods Valley on her own, seeking quiet time to herself. At times she will allow Tange to be close, but other times she makes it very clear that she wants to be left alone. But lately it has been more common to see the two playing together, if even for a few minutes here and there, and it is wonderful to see.