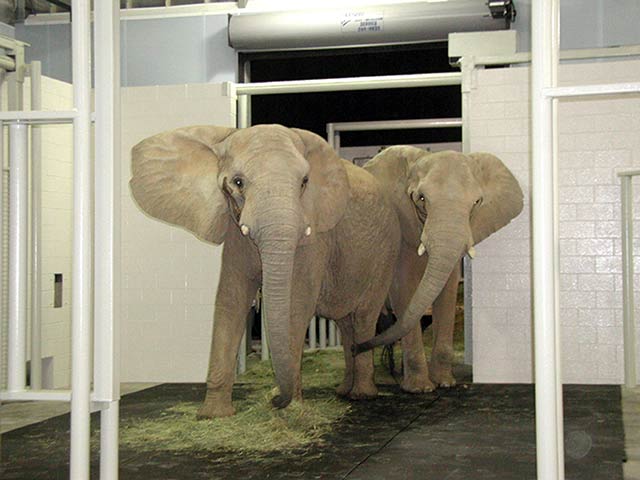 Today we celebrate the arrival of the first African Elephants at Sanctuary – Tange and Zula.
Both Girls were captured in South Africa as a result of a culling (mass killing) of all of the adults in their herds, presumably done to control population numbers.
We believe that Tange was born in 1973, Zula in 1975. Although both Girls were acquired in the same area at the same time, it is not known if they were actually related. They received their names after being sold to the Chehaw Wild Animal Park in Albany, Georgia in 1978. They spent the better part of the next three decades sharing living quarters, spending their nights chained to the barn floor.
After a change in management at the animal park, it was decided that Tange and Zula would be retired to The Elephant Sanctuary in Tennessee. On February 19, 2004, Tange and Zula became the tenth and eleventh residents and the first African elephants at Sanctuary. They were joined by Flora, another retiring African elephant, a month later. Sadly, Zula passed away in 2009. Flora and Tange are very close now, and they are often spotted engaging in their favorite activity: uprooting trees and stripping the bark and leaves.

Tange is celebrating her 40th birthday this year! Stop by The Elephant Sanctuary in Tennessee Welcome Center in Hohenwald, TN on March 16 for Tange's birthday party! We'll be celebrating Tange's life with a presentation, fun activities…and cake. You can watch the birthday girl enjoy a gift she received over the holidays in the clip below.