Recently in Divaland, on a cloudy and dull afternoon, a really loud "THUMP" was heard coming from the "threesome's" yard (Billie, Liz and Frieda) down near the hay barn. A caregiver working in the hay barn peeked around the corner only to see a large blue ball sailing through the air inside the yard, then rolling across the grass, underneath the fence and out of trunk reach. Much to everyone's delight, it was Billie who came after the ball, only to discover it was on the other side of the fence. Caregivers used a tool to push the ball back into an area where "the athletic lady" could get it. Billie, of course, pulled it back inside the fence to start another round of play.

Much like a soccer player, she pulled it back to herself, passed it between her own feet to quickly turn in the opposite direction and start dribbling through the grass. She passed it back and forth beneath her belly a few times like a pro and then dived as if saving a shot from an unseen opponent. She celebrated by pushing her face into the mud, spinning with her tail straight out, then sending the ball off with a BIG back pass through the fence again as if it were the goal. She appeared to be finished at this point, and headed back up the hill to join Liz and Frieda.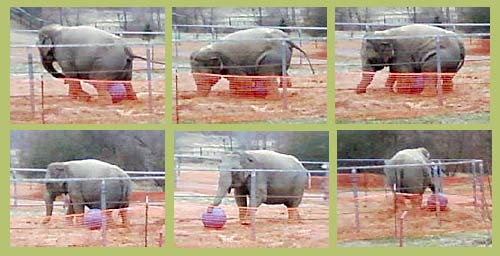 This week at the Africa barn, we have been reminiscing about our girls:
Tange's unbelievable strength and courage in dealing with the loss of her best friend
Flora's amazing behavior change from a destructive dependent elephant to a relaxed independent beautiful girl
The developing friendship between Flora and Tange.
These were the big developments in Africa .

Of course, there are also so many little events that make us smile and soften our hearts:
Flora's stubbornness if she doesn't want to go out of the barn
The relaxing poses: back legs crossed, trunk relaxed on the ground, or trunk curled up and resting on the top bar in the barn
The girls' amazing and clever way of getting bark off a tree. Their process is like a well-oiled machine; let the tree rest on a barrier, hold it with your trunk, loosen the bark with your tusk, move the tip of your trunk over the loose pieces of bark, pull one off and then put it in your mouth…so easy.
Tange's goofy ways always make us smile: tree on her head, toy donut on her head, hay on her head, found rebar draped over her shoulders
Flora's determination to break the ceiling fan
The shooing of the birds in the barn with their trunk or with their feet
The soft rumbles and ears out when caregivers enter the barn in the morning
Flora's tree that bounces back when she pushes on it
The amazing destructive sight of the valley where the girls have pushed so many trees down (and we mean a huge number of trees)
Flora handing buckets, sticks, and even little stones to the caregiver
Flora throwing stones and sticks at people she doesn't want near her

We could go on and on; we are blessed to be part of their lives.

Although there are definitely times we beg for summer to come at New Asia, some of the interactions that seem to take place only during the chillier months are always welcome. One morning Tarra and Shirley left the barn, Tarra heading north, but Shirley hanging around close. Sis and Winks came out and Sissy joined Shirley while Winkie went over to the giant ball in the middle of the meadow. As Sissy and Shirley stood together, Sissy started gently rubbing her head, ever so slowly, on Shirley's head. When it was met with a positive response from Shirley, who was smiling and rumbling, Sissy put a little more energy into it. She rubbed all over Shirley's head, part of her shoulders, then down to her backside; the whole time Shirley reciprocating in the rubbing. Winkie stood with her trunk on the ball, watching Sissy and Shirley at first, and when she seemed about to walk away from the ball, she backed up to it, lifted her back leg over it and kept it in her belly area. When Sissy and Shirley were finished, Sissy started heading toward the lake road, with Winkie following, after giving her ball a swift kick down the hill. Shirley then headed off in the other direction to where Tarra had been waiting in the north yard.

It seems Mother Nature remembered it was March in Tennessee and the sun came out again. It was warm enough for the girls to spend the night outside and that is exactly what Shirley and Tarra did. Although they were in the opposite direction from where Sissy and Winkie went the next morning, they all met up later that afternoon. In one of the fields by the barn, Sissy, Winkie, Tarra and Shirley were casually grazing and enjoying each other's company. They would rotate in their small circle; Sissy would be next to Shirley, then Tarra would go between them, and Winkie would be with Shirley. All the ladies switched "partners" several times, being very mellow, touching and eating. After splitting up somewhat for the 5 pm feed, they once again came back together as Sissy and Winkie checked to see if Shirley and Tarra had anything good left to eat. Now that it is daylight for a while after the evening feed, in addition to being warmer, the girls are quite
content to stand around, just being elephants and enjoying the company of their sisters.

Two years ago on March 29 Queenie passed away.