October Updates from The Elephant Sanctuary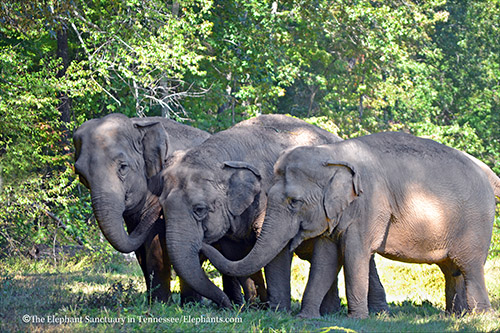 L-R: Debbie, Minnie, Ronnie
Viewers of the EleCam will have probably noticed the presence of a new "trio" in the Quarantine Habitat. Minnie, Debbie, and Ronnie have been spending a lot of time together, socializing and foraging in the pastures, hillsides, and ponds to which they have access.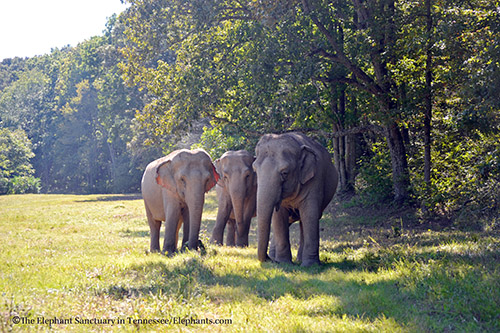 L-R: Ronnie, Debbie, Minnie
According to Caregiver Brianna, "Minnie, Debbie, and Ronnie have been inseparable lately!" Until recently, Minnie spent most of her time in a separate area of the habitat from Debbie and Ronnie. Staff would plan special times for all three to share space in the habitat where their social interactions could be closely observed in hopes that their relationship would grow and develop…so this is a very exciting development Care Staff is watching closely!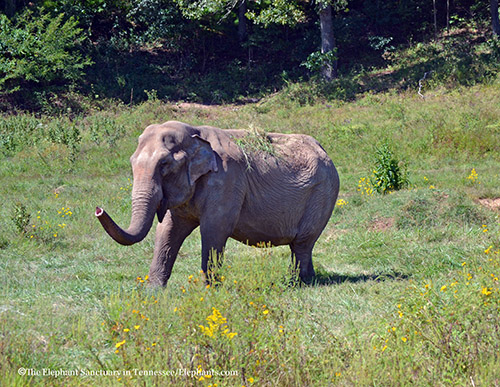 Care Staff have noticed that Billie has been spending time farther away from her "hideout" and nearer the fence separating her from the area shared by the trio. As noted in the book, Last Chain on Billie, Billie can be fearful and anxious around other elephants, so spending time nearer the others is hopefully a sign of things to come. Care Staff will continue to watch and document the interactions among the four as they support and encourage Billie's move toward more social behaviors with the new trio.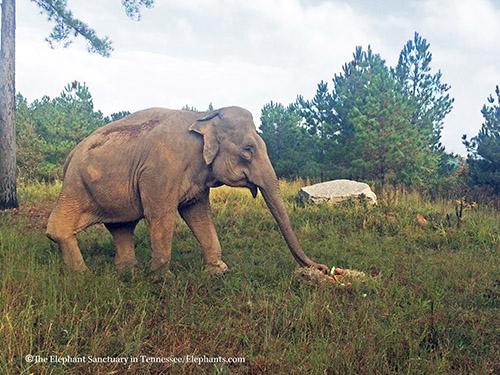 At the Asia Habitat, Shirley has moved away from Dr. Scott's Pond area where she spent much of her time during the last few weeks and walked back to the Left Field area where she was seen socializing with Tarra. If history is any indicator, Shirley will be the last elephant to choose to access the heated barn as the weather cools.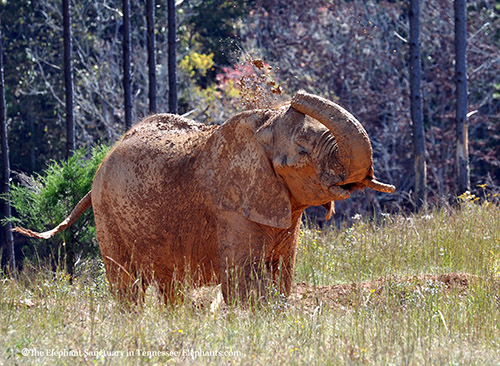 Hadari continues to explore the Africa Habitat more. Recently, she discovered the many wallows. She has also been venturing deeper and deeper into the habitat.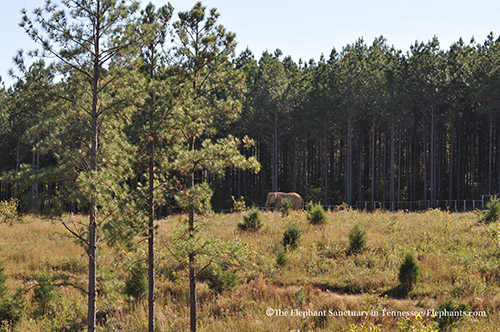 Caregiver Kristy shares that Hadari "was seen out in the 'Southern Plains' area of the habitat on Tuesday. This is the farthest caregivers have seen her go since her arrival on September 24th.
Flora and Tange are in a separate area of the habitat from Hadari, but the three can see, smell, and hear one another. One day this week, Hadari appeared to have Tange's attention. Both looked at each other, Hadari had her trunk high over the fence sniffing the air toward Tange. Tange had her ears out as she watched Hadari and there was some light rumbling occurring between them.
| | |
| --- | --- |
| | |
The Sanctuary community would also like to take a moment to remember Lottie, who passed away on October 10th, 2010 and Jenny, who passed away on October 17th, 2006. Please visit their biography pages to learn more about their amazing lives.

EleCam viewers have noted the changing colors of the trees in the habitat and shorter daylight hours announcing Autumn is here! The Sanctuary staff looks forward to sharing updates on all of the elephants as the season progresses.