It seemed that the novelty of Billie's ball wore off sometime ago, so a caregiver at the Q-Barn was glad to see her playing with the ball again early one evening this week. Billie likes to bring the ball close to her with her trunk, then kick, slap, or hit it with her head and then chase it down again. Now, however, she seems to prefer this ball game after all the caregivers have gone home for the evening.

Billie is also still holding onto her title of "loudest of the elephants at the Q-barn," and possibly at the whole Sanctuary. In the evenings Billie and Liz's "singing" can be heard by the caregiver in his cabin - even over the TV. Definitely accomplished Diva-style!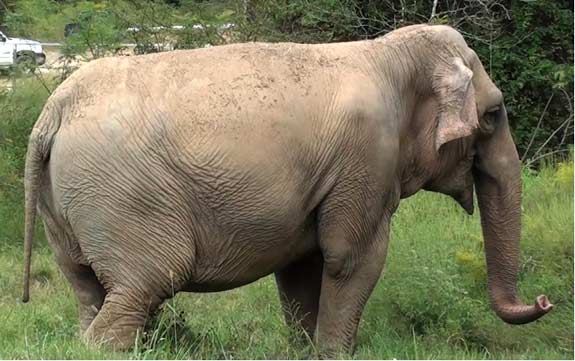 The African girls have been on the move lately. Although the days have been hot, Tange and Flora have been walking up and down the valley hills, moving from pine forest to plateau to grassland to valley. They will typically start the morning with breakfast on the Pipeline then cruise back to the barn for a mud bath, and then stroll along the western plains grazing on wildflowers. The next day they'll start their day back on the Pipeline.

And speaking of some of the Sanctuary's loudest trumpeters, this week we remember Bunny, who arrived at the Sanctuary from the Mesker Park Zoo in Evansville, IN, eleven years ago on September 29. The Sanctuary was her home for almost ten years.