When there is sunshine, our Girls love to be out and about. Billie and Frieda recently enjoyed spending some time walking in the habitat, stopping to dig along the way. In the photo below, you can see that Billie is still wearing the "bracelet" (from her days at the Hawthorn facility) on her left ankle. So far, she has been unwilling to allow anyone to remove it, but we're looking forward to the time she feels comfortable enough for a caregiver to take it off.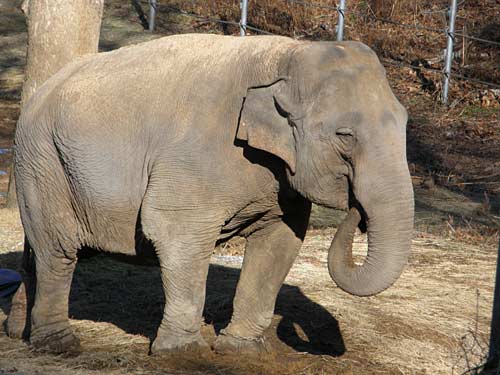 In Africa, Tange and Flora have also been enjoying sunshine whenever it appears. They especially enjoy warmer rains and mud wallows. One morning after letting the Girls out of the barn, a closer inspection of the mud left behind revealed two distinct elephant impressions from where they had been sleeping.
January 26 is Sissy's 10th Anniversary! Sissy blesses the hearts and the lives of all of her elephant friends with her soft gentle presence and perpetual smile.
Lottie and Minnie will be celebrating their 4th anniversary this Sunday Jan. 31.